At some point in our lives, we face the heartbreak of having someone we love pass away. The loss may be sudden and unexpected, which brings a unique type of pain. Other losses may be gradual, such as having a loved one pass away from a terminal illness or natural decline. When someone we love dies, it can feel as though the ground has been pulled out from beneath us. During the initial phase of bereavement, it is common to feel a variety of intense emotions, ranging from denial, anger, sadness, emptiness, regret, fear and nostalgia.  We may experience shock or disbelief that someone who had a physical presence in our lives no longer does. We may be trying to wrap our heads and hearts around what happened and how to move forward. We may even face our own thoughts of mortality.
Moving into the grief phase, we slowly adjust to day-to-day life without our loved one in the physical world. This is often a time where rituals, such as memorial services and gatherings will take place. For some, these rituals bring a sense of peace, closure and closeness, while others may experience difficulty accepting reality. It is important to remember that complex emotions are expected to occur when healing from a loss.
While death is often the type of focus on grieving, it is important to note that there does not have to be a death for grief to exist. Grief can be present any time that we experience a loss or major shift in a pattern or routine that we have come to know. Grief can also appear when our connection with a loved one changes or how we know a person to be changes. This commonly occurs when an adult child journeys alongside a parent who has dementia and recognized changes in their parent's personality or ability to recognize loved ones. Another common example of situational grief is when someone separates from a long-term partner, or an adult child moves out on their own. Situational grief can have just as much of an impact as grieving as a result of someone dying does.
What is important to remember is that there is no right or wrong way to grieve, and each individual will have different approaches to processing their feelings and reactions. Society tends to set grieving norms that can influence our view of how we think we should behave and feel. While grieving, it is key to honour and acknowledge your thoughts, feelings and emotions as they come up and to be gentle with yourself. Try to avoid comparing how you are grieving with how others around you are grieving. Find self-soothing activities that are meaningful and nurturing to you. Take the time to honour your loss in a way that suits your values, worldview and needs, despite societal pressures.
Reach out to your support network and recognize who you feel safe discussing your grief with and why. Remember that grief tends to continue to exist within us to some degree, particularly after a significant loss. The hope is that with time and growth, the grief will shift and become more manageable. Always know that you are never alone and there is always someone willing to listen.
If you or someone you know needs additional support for grief or loss, please feel to reach out to us at or 250-718-9291.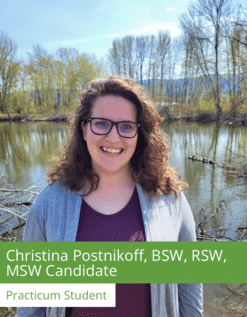 Written by: Christina Postnikoff, MSW Candidate

Visit here to book with Christina: https://okclinical.janeapp.com/locations/kelowna/book#/staff_member/38